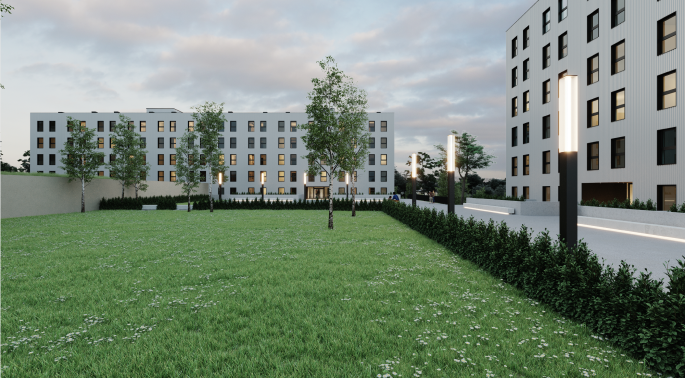 Apartamentos de Qualidade Premium | Baixa do Porto
The
Olimpo Porto
is a "ONE-OFF" very distinct 26 million euro investment project in the prime zone of Porto's largest universities hub, with more than 45,000 students, doctors, nurses, and highly professional at your doorstep.
The project consists of 218 apartments (each one with private underground parking), amazingly crafted by the
CA architectsteam.
The project is being constructed on a 12,000 sqm plot, with superb landscape architecture, 5000 sqm of green lungs and common areas and 200 sqm private condominium room.
The project offers a Metro and Bus station, easy access to all highways and minutes away from the ocean, Porto downtown and other POI's.

Download brochure with floor plans.
Modern meets classic
O layout concebido para a área comercial e apartamentos mantem toda estrutura e conceitos espaciais pre-existentes.  
Apesar do seu estado degradação, o layout interior do edifício revela características românticas se ainda se revelavam com alguma evidencia, especialmente através da escadaria . Foi o objecto base e de inspiração  o conceito de design.
Localização
Localização Premium na parte histórica da cidade do Porto. Espaços fortemente iluminados revelando os recuperados  elementos originais que caracterizam o espaço. Os arcos divisórios, a alvenaria de granito e a escadaria. 
O resultado são 5 apartamentos estúdio e T1, assim como uma loja. Os espaços interiores comunicam um diálogo pacífico entre o antigo e o moderno dando voz as elegantes divisões que assumem várias personalidades consoante a variação da luz ao longo do dia.